Short-term Rehabilitation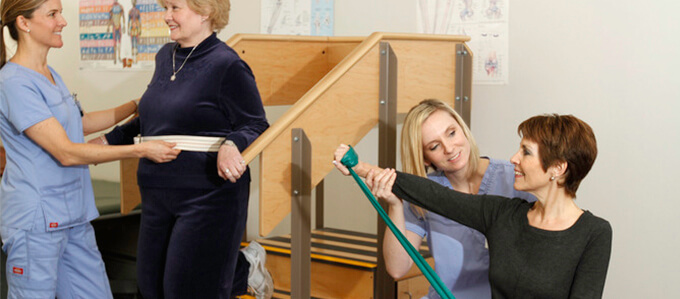 Our team of physical therapists (PT), occupational therapists (OT), and speech therapists (slp) work to speed recovery and return residents to home as quickly as possible. Our therapists work one-to-one with patients in our state-of-the- art gym equipped with the latest rehabilitation equipment.
Mystic Healthcare specializes in several areas of rehabilitation, including orthopedic rehabilitation, for patients who have undergone knee and hip replacement surgery and other orthopedic procedures, and Stroke Rehabilitation, described in further detail in the section below entitled, Stroke Rehabilitation.
Outpatient Rehabilitation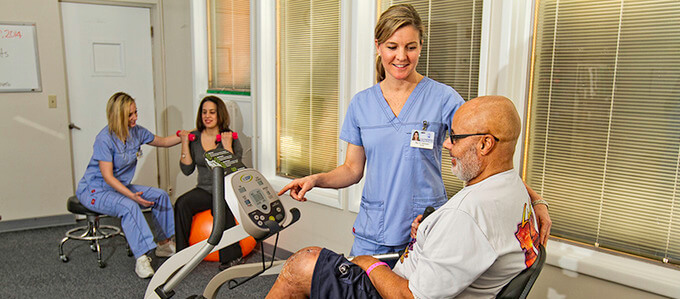 Mystic Healthcare provides outpatient rehabilitation for patients who wish to continue their physical, occupational or speech therapy after discharge. Residents from the surrounding community are also welcome to schedule outpatient therapy at Mystic Healthcare.
Stroke Rehabilitation
Our specialized Stroke Rehabilitation Program, led by neurologist Neer Zevi, MD, emphasizes an interdisciplinary approach focused on achieving health goals to return patients to the highest possible quality of life.
Physiatrist Joseph Peters, MD, rounds weekly. (Physiatrists are physicians who specialize in physical rehabilitation.)
Patients receive intensive Physical and Occupational Therapy up to 7 days/week and Speech Therapy up to 5 days/week according to an individualized care plan. Therapies include: Electrostim, Diathermy, Ultrasound, and VitalStim Dysphagia Therapy.